How to use PhoneCopy
A lot of users do not know about all features that PhoneCopy provides. Did you know, for example, that you can easily remove diacritics from name, swap given and family name, add or remove international prefix, remove spaces and separators from phone numbers, search duplicate contacts, merge contacts, export to other formats, synchronize text messages from iTunes and Android, or even recover deleted contacts?
Choose what you want to perform
Mark contacts, press "more actions" and choose what you wish to perform with selected contacts.
Browse and edit contacts
You can alter contacts even one by one. Pick any contact, modify it, and press "Save" and continue on to more contacts by pressing "next" or "previous" in top-right corner.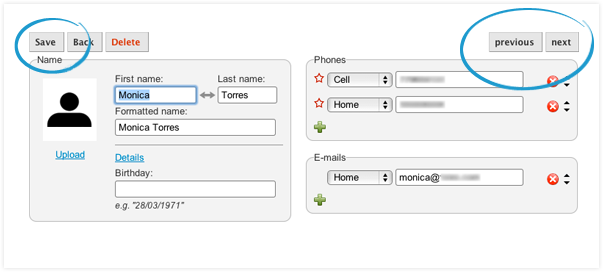 Duplicates
Press "more action" and pick "Search for duplicates". PhoneCopy finds duplicate contacts and makes it easy for you to unify or ignore or delete them.
International prefix
Mark contacts for which you wish to add international prefix. Press "more actions" and pick "add international prefix". Enter prefix, which you can change in "Settings".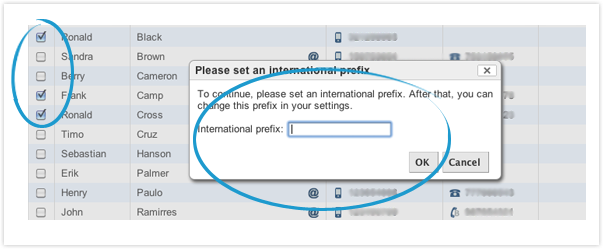 How to restore deleted contacts
Deleted contacts can be easily restored. Press "resore deleted contacts", choose contacts which you want to restore and press "restore". Contacts which were deleted more than 30 days ago can be automatically deleted, and can not be recovered. If you use Premium account, contacts will be possible to recover for at least 365 days.

Choose contacts which you want to restore and press "restore".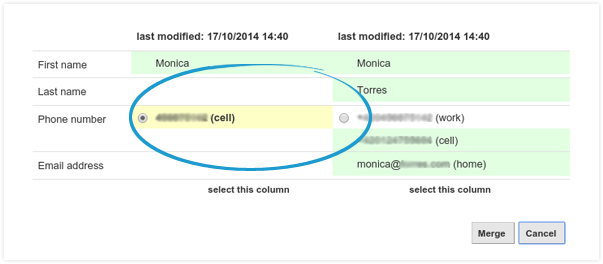 Some additional tips:
PhoneCopy
can also be used as a regular synchronization service to synchronize with other devices, should you lose your Windows's stored contacs, or if you just run out of notebook battery and you need to see your contacts online. Also, on your online account, you will see full history of your contacts, as well as the data that you've deleted in between the synchronizations. You can find them in an archvie from where you can restore them.