Sauvegarder contacts, calendrier, tâches et notes depuis
Motorola ROKR Z6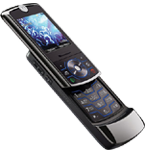 Available guides for synchronization to the secure cloud
Supported functions
synchronisation des contacts
synchronisation du calendrier
synchronisation des tâches
synchronisation des notes

Motorola ROKR Z6 est pris en charge avec PhoneCopy. Veuillez noter que les paramètres suivants peuvent varier légèrement en fonction de la version du micrologiciel.
Guide textuel - Comment sauvegarder
Avec Motorola ROKR Z6
Guideline n'a pas encore été traduit dans votre langue.
Press Main Menu and choose Office Tools - Sync
If there is no synchronization profile in your cell phone, select SyncML and press Select
If there was some synchronization before, select Options - Edit profile - Create a Profile.
In the following menu choose Create New and configure given fields.

▼ hide fields

Profile name:

Type PhoneCopy

Server URL:

Type http://www.phonecopy.com/sync

User name:

your_username

Password:

your_password

Choose Next.
Check items to be synchronized and configure given fields.

▼ hide fields

Contacts:

In the Contacts Data Path line write contacts

Calendar:

In the Calendar Data Path line write calendar

Tasks:

In the Tasks Data Path line write tasks

Data Connection:

Choose Data Connection for Internet access.

In the following menu, under the Synchronize item, choose PhoneCopy.
Select Options - Set as Default
Choose Synchronize Now and now you can start synchronization with PhoneCopy anytime you want.
Et maintenant, veuillez assigner votre téléphone à votre compte PhoneCopy.
En cas de problemes dans la synchonisation, veuillez nous contacter.
Commentaires des utilisateurs