O artigo ainda não foi traduzido para seu idioma.
How to export contacts from Windows Phone 7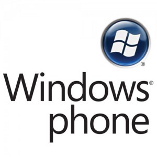 Considering that a number of users using Windows Phone is significant, more and more people find themselves in need of synchronize contacts. For these purposes there is a simple solution PhoneCopy.com, which we've prepared this tutorial for.
This article should work for all Windows phones 7.1, 7.5 and 7.8 OS are for example: Acer Allegro, Iconia tab w500, Iconia w501, Iconia w700, Alcatel TCL S606, DELL Venue pro, Fujitsu q550, q702, Toshiba IS12T, Gigabyte GSmart S1081, HP Slate 2, Slate 500, HTC 7 Mozart, 7 pro, 7 Surround, HD 7, Radar 4G, Titan, Titan II (x825), Trophy, Trophy 7, LG Optimus 7 (E900h), Optimus 7Q, Quantum, Nokia Lumia 505, Lumia 510, Lumia 610, Lumia 710, Lumia 800, Lumia 900, Panasonic Toughbook u1 essential, U1 ultra, Samsung Focus, Focus 2, Focus Flash, Focus S (SGH-i937), Mandel SGH-i667, Omnia 7, Omnia W, S7530 Omnia M, series 7 slate pc, Viewsonic viewpad 10 pi, Viewsonic 7, ZTE Orbit, Tania
Next help and advices are on page How to
IF YOU NEED TO TRANSFER CONTACTS TO Windows Phone 7 please use another guide
How to start?
You need to have a mobile phone with Windows Phone 7.1, 7.5 or 7.8 OS.
Export contacts from Windows Phone 7 to PhoneCopy.com
Download the PhoneCopy application from windowsphone.com
. If you do not have a PhoneCopy account yet, press "Register new account" and create it by filling in "Registration" and then press "Sign up".
If you already have a PhoneCopy account, fill in your username and password. To export your contacts, press "Export to PhoneCopy.com". If you want to upload your merged contacts back to the same Windows Phone 7, it is necessary to delete all contacts there first.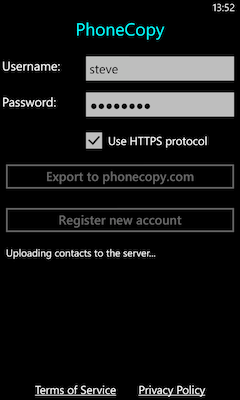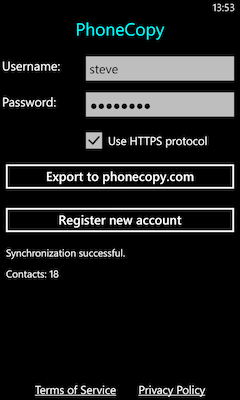 ---
Now you have all your contacts exported on PhoneCopy and you can edit your contacts in your online account. PhoneCopy can also be used as a regular synchronization service, should you lose your phone or the stored data, or if you just run out of battery and you need to see your contacts online. Also, on your online account, you will see full history of your contacts, as well as the data that you've deleted in between the synchronizations. You can find them in an archvie from where you can restore them.
IF YOU NEED TO TRANSFER CONTACTS TO Windows Phone 7 please use another guide
---