Backup contactos and calendário from
Apple Mac OS X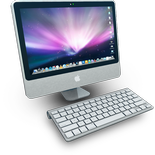 Available guides for synchronization to the secure cloud
Supported functions
contact synchronization
calendar synchronization
automatic sync
Apple Mac OS X is supported on PhoneCopy. Please note that following settings may vary a little depending on the firmware version.
Apple Mac OS X users around the world
According to our statistics, PhoneCopy users use Apple Mac OS X for data backup in countries France - 13.65%, Germany (Deutschland) - 12.94%, United States (Estados Unidos, États-Unis, 'Amelika Hui Pū 'ia) - 10.00%, Switzerland (Schweiz, Suisse, Svizzera, Svizra) - 9.06%, Czechia (Czech Republic, Česká republika) - 8.47%, United Kingdom (Y Deyrnas Unedig, Unitit Kinrick, Rìoghachd Aonaichte, Ríocht Aontaithe, An Rywvaneth Unys) - 5.06%, Lebanon (Lubnān, لبنان, Liban) - 4.47%, Ecuador - 3.53%, Australia - 3.18%, Netherlands (Nederland, Nederlân) - 1.88% and 60 more.
On the map
Following heat map shows contacts synchronisations with Apple Mac OS X using PhoneCopy across the globe.
Text guideline - How to backup
Comentários de utilizador