How to export contacts, calendar events and SMS from Windows 10 Mobile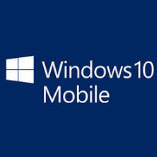 Considering that a number of users using Windows Phone is significant, more and more people find themselves in need of export contacts, calendar events and SMS. For these purposes there is a simple solution PhoneCopy.com, which we've prepared this tutorial for.
This article should work for all Windows 10 Mobile phones which are for example: Acer Liquid Jade Primo, Liquid M320, Liquid M330, Alcatel Idol 4 Pro, Idol 4S Windows 10, OneTouch Fierce XL, OneTouch Pixi 3 (4"), OneTouch Pixi 3 (4,5"), OneTouch Pixi 3 (5"), Archos Cesius 50, Bush Eluma, Coship Moly X1, Diginnos Mobile DG-W10M, Freetel Katana 01, Katana 02, Funker W5.5 Pro, Geanee WPJ40-10, Microsoft Lumia 540, Lumia 550, Lumia 650, Lumia 950, LUMIA 950XL, NuAns Neo, Sony VAIO Phone Biz, Xiaomi Mi 4 LTE, Yamada Denki EveryPhone
Next help and advices are on page How to
IF YOU NEED TO TRANSFER CONTACTS TO Windows 10 Phone please use another guide
How to start?
You need to have a mobile phone with Windows 10 Phone.
Export contacts from Windows 10 Phone to PhoneCopy.com
Download the PhoneCopy application from windowsphone.com. If you do not have a PhoneCopy account yet, press "Register new account" and create it by filling in "Registration" and then press "Sign up".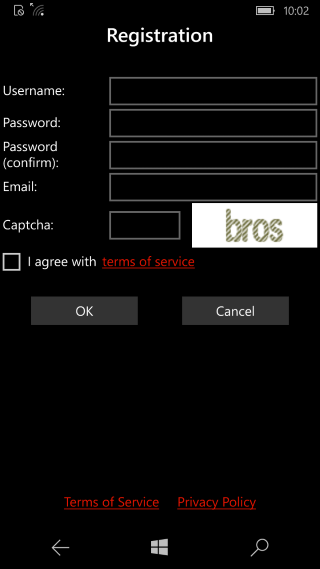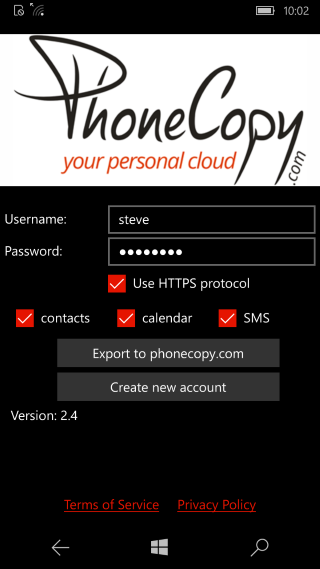 If you already have a PhoneCopy account, fill in your username and password. To export your contacts, press "Export to PhoneCopy.com". If you want to upload your merged contacts back to the same Windows 10 Phone, it is necessary to delete all contacts there first.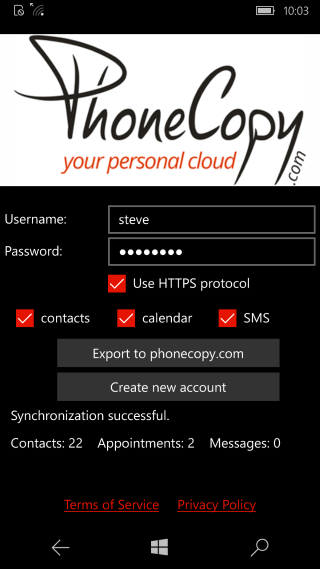 Now you have all your contacts exported on PhoneCopy and you can edit your contacts in your online account. PhoneCopy can also be used as a regular synchronization service, should you lose your phone or the stored data, or if you just run out of battery and you need to see your contacts online. Also, on your online account, you will see full history of your contacts, as well as the data that you've deleted in between the synchronizations. You can find them in an archvie from where you can restore them.
IF YOU NEED TO TRANSFER CONTACTS TO Windows 10 Phone please use another guide