Backup contacts, calendar and tasks from
Microsoft Lumia 950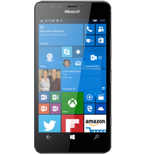 Available guides for synchronization to the secure cloud
Supported functions
contact synchronization
calendar synchronization
task synchronization
automatic sync
Microsoft Lumia 950 is supported on PhoneCopy. Please note that following settings may vary a little depending on the firmware version.
Microsoft Lumia 950 users around the world
Microsoft Lumia 950 is preffered for contact backup by PhoneCopy users around the world - Czechia (Czech Republic, Česká republika) - 43.27%, Slovakia (Slovensko) - 20.86%, Hungary (Magyarország) - 8.13%, South Africa (Suid-Afrika, iNingizimu Afrika, uMzantsi Afrika, Afrika-Borwa, Afrika Borwa, Aforika Borwa, Afurika Tshipembe, Afrika Dzonga, iSewula Afrika) - 7.30%, United Kingdom (Y Deyrnas Unedig, Unitit Kinrick, Rìoghachd Aonaichte, Ríocht Aontaithe, An Rywvaneth Unys) - 3.96%, Turkey (Türkiye) - 3.02%, Ukraine (Ukraїna, Україна) - 2.82%, Germany (Deutschland) - 2.40%, Greece (Hellas, Ελλάς, Ellada, Ελλάδα) - 1.67%, France - 1.36% and 15 other countries.
On the map
The map shows usage of Microsoft Lumia 950 for contact backup with PhoneCopy around the world.
Text guideline - How to backup
From Microsoft Lumia 950
PhoneCopy application can be used only for exporting contacts from your phone. If you need to transfer contacts from PhoneCopy to your device, please use following
screenshot guide
.
Download PhoneCopy application from Windowsphone.com
Open PhoneCopy application.
Fill in Username and Password.
Press Export to phonecopy.com.
Your contacts were copied to PhoneCopy.com server.
You can see synchronized contacts on the www.phonecopy.com.
If you need more help, visit our step by step screenshot guide.
In the case of problems with synchronization, please contact us.
To Microsoft Lumia 950
Press Settings - Accounts.
Press Add an account.
Choose Exchange.
Fill your_username@www.phonecopy.com into Email address.
Press Next.
Fill in your account details.

▼ hide fields

Email address:

your_username@www.phonecopy.com

Password:

your_password

Press Next.
Select the data to be synchronized:

▼ hide fields

Emails:

no

Contacts:

yes

Calendar:

yes

Pres Done.
In the case of problems with synchronization, please contact us.
User comments