Данная статья еще не переведена на ваш язык.
How to transfer contacts to Windows PC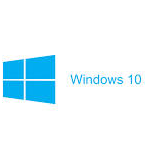 Many users are using their Windows PC and they find themselves in need of backup or synchronize contacts externaly. For these purposes there is a simple solution PhoneCopy for Windows, which we've prepared this tutorial for.
Next help and advices are on page How to
How to start?
You need an PC with an operating system Windows 7, Windows 8 or Windows 10. The list of other officially supported devices is here.
---
Backup and synchronize contacts from your Windows PC
Download PhoneCopy for Windows to your Windows PC, which you can download free of charge. After downloading and installation PhoneCopy icon will appear on your desktop.
---
Start the application and small PhoneCopy icon will appear on right bottom corner of your screen on status bar. When you will press this icon at first time you will be asked to fill your username and password. Any next icon click will start synchronization.
---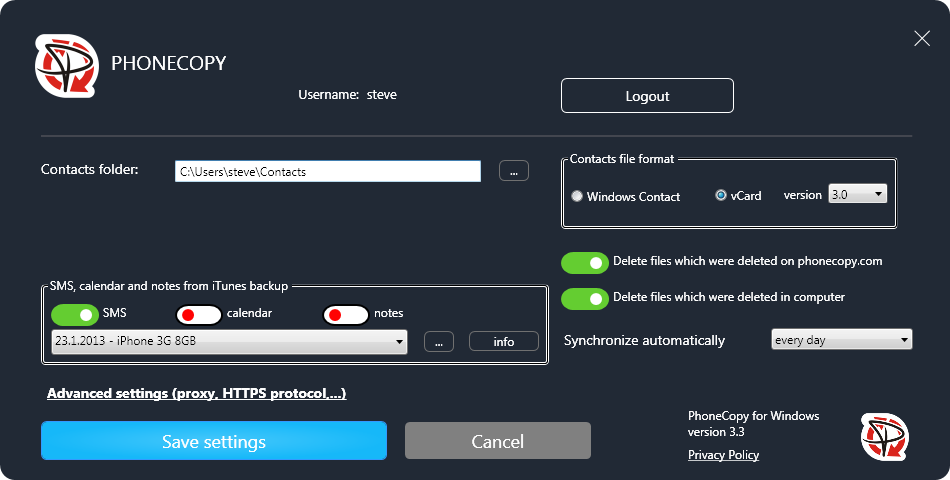 Start PhoneCopy for Windows. Fill your PhoneCopy username and password, then select the local directory where you stored your contacts, and choose VCARD format which will be used (we recommend to use 3.0 which is pre-selected - this is the right option when you are looking to import contacts from .vcf). Another option is to use native Windows Contacts format and synchronize directly from/to Contacts folder. Moreover, you can set your proxy on the same screen.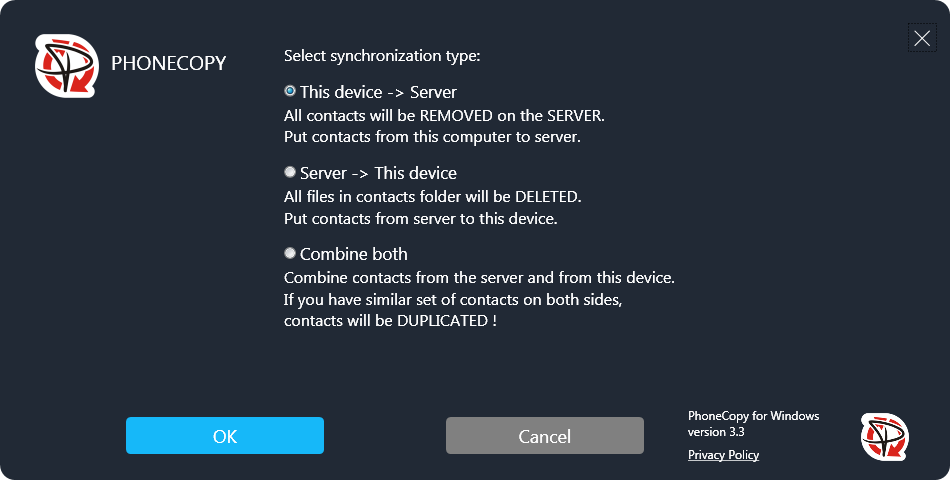 Now you can start the first synchronization on your Windows to transfer your contacts from/to PhoneCopy server. When synchronizing for the first time you can select synchronization direction. When you will add any VCARD contacts to selected directory you will see it synchronized to PhoneCopy after next sync. Status bar icon is animated during synchronization process.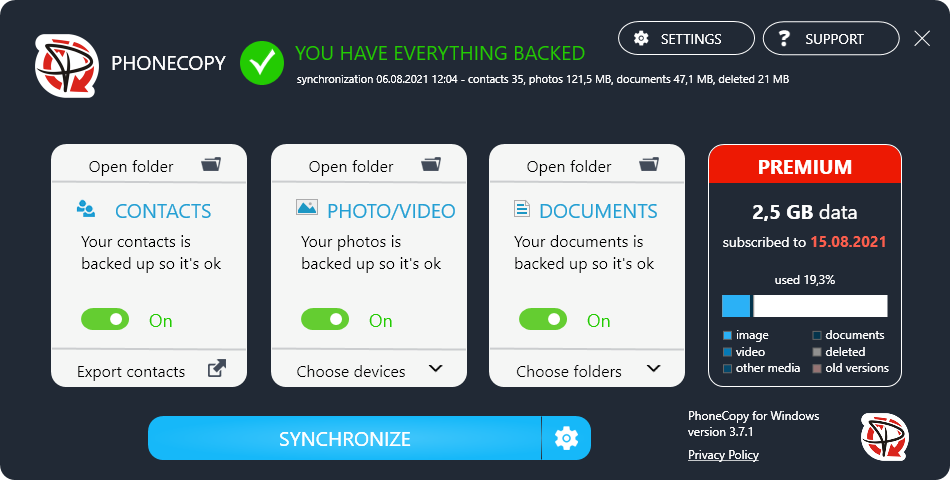 When synchronization finish you will get confirming message.
Now you have all your contacts synchronized on PhoneCopy and you can edit your contacts in your online account. PhoneCopy can also be used as a regular synchronization service to synchronize with other devices, should you lose your Windows's stored contacs, or if you just run out of notebook battery and you need to see your contacts online. Also, on your online account, you will see full history of your contacts, as well as the data that you've deleted in between the synchronizations. You can find them in an archvie from where you can restore them.
For more information about our app, visit our PhoneCopy for Windows page.
---