L'article n'a pas encore été traduit dans votre langue.
PhoneCopy Cooperation
PHONECOPY AS A PERSONAL CLOUD
PhoneCopy.com is a service for managing and backing up data from a mobile phone to a private cloud storage. The cloud – based app allows you to synchronize / back up your contacts, SMS and media (and many more) between your mobile device and PhoneCopy.com. Data is so up-to-date and with secure archive of changes.
EFFICIENT TOOL TO ENHANCE NEW OPPORTUNITIES FOR MOBILE OPERATORS
Strong competition in the telecommunications sector puts pressure on price reductions while maintaining the level of service provided. With PhoneCopy.com. You can stop this phenomenon, or at least, slow it down and be a step ahead of your competitors and differentiate yourself! Provide added value to your customers using additional services.
---
BENEFITS FOR OPERATORS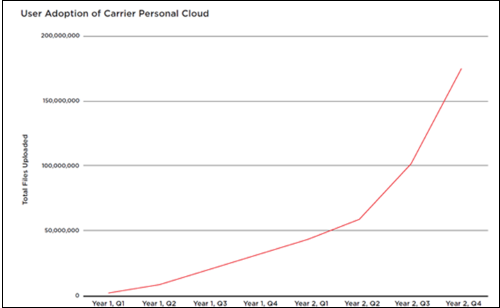 Possibility of co-branding
Added value for customers - higher security
Small Smart Services - Generating new revenues from services related to photo and video backup
Doesn't require interconnection with billing systems
Data can be stored in a defined geographic location
Distinction from competition - a unique benefit as an argument for new clients
Keeping customers - Offer new services to your existing customers
Mitigation of price erosion - argument in price negotiation
Generate new revenues and business opportunities
o increase ARPU by up to 1.33USD per month in direct effect
o increase ARPU by $ 0.50 in support of sales of such packages
Increase portfolio value
o avoid customer outflow
o ensure professional and reliable data backup
---
PHONECOPY.COM MEDIA STORAGE BUSINESS MODEL
Take advantage of personal cloud which is a trend of today's services, and offers an interesting increase in ARPU, which is also supported by the increasing resolution of photos and videos taken by mobile phones, as well as by the growing storage capacity of new mobile phone models.
Models of co-operation:
Partner (operator) adds the selected storage volume to Premium Premium clients. The price will be charged for the purchased volume (1 GB, 2 GB, 5 GB etc.) no matter if used or not. The price is the lowest in relation to GB
Partner can offer to his customers storage within PhoneCopy Premium. The price is charged only for the cumtomers who activate the service and also according the data volume. Related to GB is the price slightly higher.
Partner can offer upgrade to larger storage volume (for example, the partner will offer 1 GB of volume as part of its own valid tariff. If client decides to purchase larger storage and purchases it through PhoneCopy.com, PhoneCopy.com pays the stake to the partner)